Last Updated: Tuesday, 13 February 2018 02:38
Published: Tuesday, 10 October 2017 04:32
Hits: 2159
HICKORY - Virginia Louise "Jenny" Craig, 25 of Hickory went home to be with her Lord and family on October 7, 2017 at her home.
A Celebration of Life Service will be held on Wednesday, October 11, 2017 at 1 PM at Catawba Funerals & Cremations. Burial will follow at Catawba Memorial Park.
The family will receive friends on Tuesday, October 10, 2017 from 7-9 PM at the funeral home.
Memorials may be made to The Shriners, Make A Wish, or Spina Bifida Association as well as the Walkin' Roll Activities League.
Condolences may be left at www.catawbamemorialpark.com.
The Craig Family is under the care of Catawba Memorial Park, Funerals & Cremations.
(exerpts taken from complete obituary that can be found on www.catawbamemorialpark.com)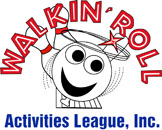 Our Walkin' Roll family would like to provide food for the family following the services, so if you would like to donate food, please contact Sharon Barlow - 828-228-0616.